Biography - English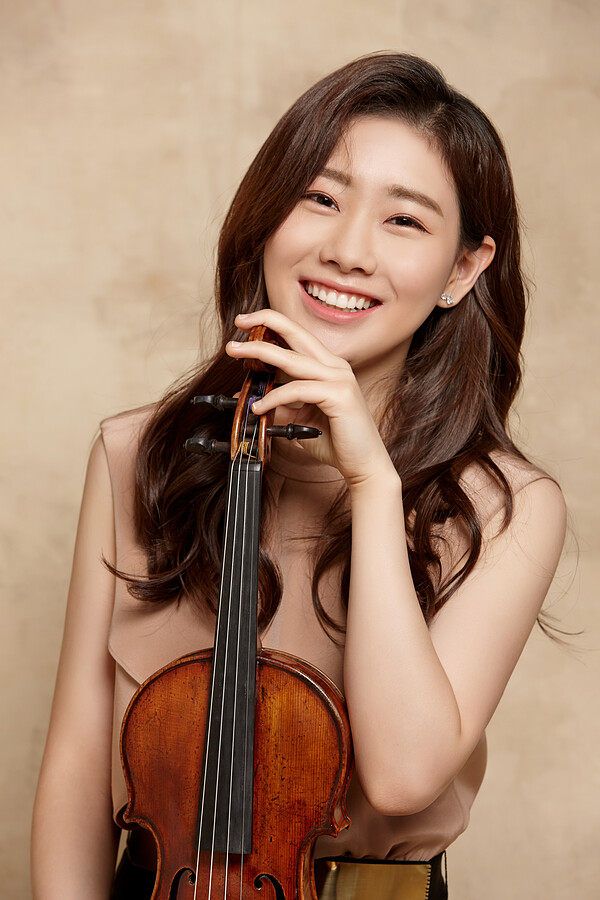 Korean violinist Ji Won Song delights audiences worldwide with energetic and engaging performances that express her refined perspectives on melody, color and harmony, as well as her deep passion for her instrument. A versatile soloist and chamber musician, she is sought after for her creative approach, vivid sound, and multi-faceted interpretations of classical and contemporary repertoire.
Among the renowned international orchestras with which Ms. Song has soloed include The Philadelphia Orchestra, Shanghai Symphony Orchestra, Bavarian Radio Symphony Orchestra, Montreal Symphony, Belgium National Orchestra, Seoul Philharmonic Orchestra, Incheon Philharmonic Orchestra, Bucheon Philharmonic Orchestra, Korean Symphony Orchestra, Gangnam Symphony Orchestra, and Seongnam Symphony Orchestra.
Ms. Song's artistry has been recognized on the competition stage as well as the performance stage. In addition to the 2017 Isang Yun International Violin Competition (Tongyeong, Korea), she is the recipient of numerous first prizes, including first prize and audience prize at the 2016 Leopold Mozart Competition where she performed with The Munich Radio Orchestra under Maestro Dirk Kaftan (Augsburg, Germany); first prize and the classical music prize at the 2014 China International Violin Competition in Qingdao; first prize and the best Chinese work prize at 2014 The Alice & Eleonore Schoenfeld International String Competition; first prize with the audience prize in 2012 The Schadt Competition. Additional prizes include the second prize at 2015 Concours International de Violon Tibor Varga (Sion, Switzerland). While Ms. Song was a student at Curtis Institute of Music, she receieved the esteemed Milka/Curtis Artist Prize, awarded by Curtis in conjunction with the Markow Toteyy Foundation. In 2018, she recorded her first international debut album 'Mozart & Beethoven' on Klanglogo. Furthermore, her recitals were broadcasted through WQXR (New York's Classical Music Radio Station) and Korea's television networks, such as EBS 'Space' and KBS 'An Die Musik'.
Born in the vibrant city of Seoul, Ji Won Song began formal violin studies at age five with Nam-Yum Kim and Bon-Jiu Koo at the Korean National University of the Arts. She reveled in experimenting with playing techniques and found that the violin's clear, dynamic voice was an apt vehicle for sharing profound feelings and complex thoughts. At age 10, she emigrated to the United States to study violin at the Cleveland Institute of Music with David Cerone and while studying with him, made her solo debut at the Kennedy Center at age 12. She then studied with renowned violinists Ida Kavafian, Shmuel Ashkenasi and Victor Dachenko at the Curtis Institute of Music, earning her Bachelor's of Music. Ms. Song then studied with eminent violinists Donald Wilerstein and Soovin Kim at the New England Conservatory of Music, earning her Master's degree. Ms. Song then graduated from prestigious Artist Diploma program at The Julliard School, and currently pursuing Doctor of Music Arts at the New England Conservatory, where she studies with distinguished violinists Donald Weilerstein and Soovin Kim.
Ji Won Song plays the "ex-Curtis" Nicolas Lupot, Paris 1799, generously loaned by a patron through the Tarisio Trust.